Deliveries of TDP-2-2000 continuous mode pyrolysis furnace to Europe have continued without fail
---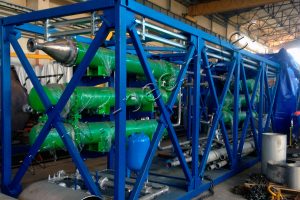 A second batch of the shale sludge waste management complex for the Viru Keemia Grupp (Estonia) was shipped from the IPEC production site: a condensing assembly and an operator control unit.
A distinctive feature of the condensation assembly from the standard version is that it will serve two TDP-2-2000 pyrolysis units, one of which has already been delivered to the Customer. Recall that the modification of the screw system of the reactor of the Thermal Decomposition Plant (TDP-2-2000) allows more efficient raw materials tracking. And this in turn increases the processing capacity up to 2000 kilograms per hour.
The thermal destruction facility TDP-2-2000 is certified by TÜV NORD, which enables IPEC to enter the European market directly and start deliveries as early as 2017.