Modernization of the drilling waste unit at the oil-gas field of NGK Slavneft goes on
---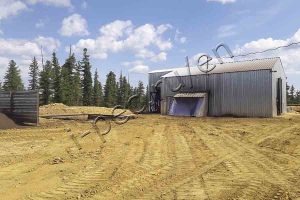 Drilling waste of the Kuyumba oil-gas field developed by NGK Slavneft are successfully utilized on TDP pyrolysis plants of the IPEC Company make. The satisfied client ordered new, more powerful equipment, TDP-2-2000 together with the contract on retrofitting of two existing TDP-2-800 plants that have been operating since 2016 at the Client's premises.
Two existing units will be assembled in parallel, both served by the same auxiliary equipment, while the new reactor 2000 will have the resources of the one of the former ones. Thus three instead of two pyrolysis plants enter into operation within the same infrastructure, which not only enhances the capacity of the whole plant but also cuts operation costs for personnel, territory, etc.
Another branch of the oil gas production also will get additional TDP-2-2000 plant connected to the same infrastructure with existing TDP-2-800.
This drilling waste utilization unit operates successfully since 2016 and shows the path towards 'drilling without pits' program declared by Russian Government.