Motor fuel from waste: cutting edge technique at the Ecology of the Big City Exhibition
---
Unique 'green' solution aimed at fuel components production from waste was presented by the Ipec Company at the Ecology of the Big City Exhibition in St. Petersburg.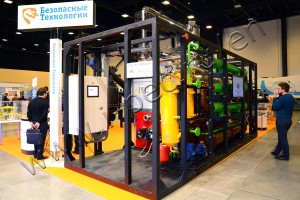 This cutting edge equipment allows producing pure fuel fractions from HC containing refuse. At first waste is fed to the UTD pyrolysis plant where it decomposes in the oxygen deficiency conditions to its phases. Liquid phase being low quality boiler fuel is then fed to the rectification assembly where it is separated to market-grade synthetic combustibles, gasoline and diesel fuel components. Other reaction products are pyrolysis gas, which is used for maintaining the process and dry residue.
It is to be noted that both technique and equipment are always subject to research and enhancement. Thus since 2016 the flue gas line was redesigned to incorporate catalytic converter, also of Safe Technologies, IG make, which is to ensure 100% environmental safety of the plant. Hot flue gas is oxidized on platinum catalyst, made by the company-member of the Safe Technologies IG.
Visitors from public utility sector and others, St. Petersburg dignitaries among them, were interested in the new equipment, which at the moment undergoes factory testing at the in-house equipment manufacturing facility before shipment to the client.