New waste thermal treatment solutions of IPEC on WASMA 2015 exhibition (VIDEO)
---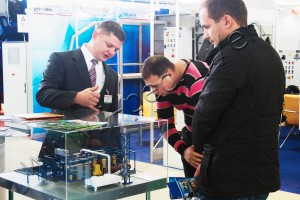 12th International exhibition of equipment and technologies for water treatment and waste management WASMA was carried out throughout three days: from the 27th to the 29th of October 2015. It took place in Moscow EcoCentre Sokolniki.
Russian and foreign companies highlighted the equipment for the collection, transportation, processing, recycling and disposal of waste, municipal vehicles, as well as equipment and technology for water treatment. IPEC, as a constant participant, once again demonstrated new equipment and technologies for waste management.
IPEC introduced to the exhibition participants an innovative solution for the pyrolysis of waste, with output of pure motor oil components: Thermal Decomposition Plant for organic materials treatment and Motor Oil Production Unit. This equipment converts liquid and solid organic waste, such as oil contaminated soil, fabricated rubber products, polymeric material, solid bitumen, worn-out tires, high-viscosity oil, mudstone into conditioned products: fuel oil, diesel oil  and gasoline.
Mass media representatives and guests of the exhibition showed great interest to the equipment developed by IPEC.