Nutshells as commodity sorbent: raw materials processing at TDP-2-200 followed by activation showed positive results
---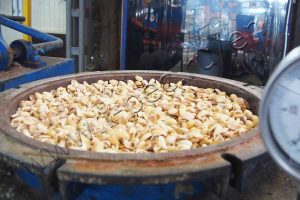 Experts of the company started developing new direction – nutshell to activated carbon recycling. The process is carried out in two stages:
Stage I – pyrolysis of waste at TDP plant to produce a carbon residue;
Stage II – activation of carbon.
At the end of June 2017, a test run was carried out at the IPEC production site for the processing of pistachio shells.
In the first stage, the raw material was pyrolyzed in Continuous Thermal Decomposition Plant (TDP-2-200). After that, the carbon residue was loaded into the activated charcoal reactor for steam treatment.
The technology of coal activation is the high-temperature treatment of carbon-containing material with water vapor at a temperature of 900-1100 °C in a refractory reactor. The process of the second stage was carried out for 15 minutes. At the same time, coal is activated based on micropores and mesopores sorbing system.
700 kg of shell were tested, resulting in the following end products:
230 kg of activated carbon
225 m3 of pyrolysis fuel gas
30 kg of liquid fuel
145 kg of industrial water
The product of processing, activated carbon, was sent to an independent testing laboratory for the physico-chemical indicators analysis for compliance with GOST standards.