Oil sludge processing unit TDP-2-3000: shipment of a set of equipment
---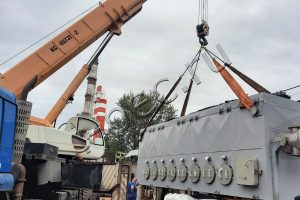 A set of equipment for the oil sludge processing plant, based on two innovative high-performance pyrolysis reactors TDP-2-3000, was shipped from the production site IPEC (Safe Technologies IG). The equipment was manufactured for East Siberian Oil and Gas Company JSC.
This delivery set included: a complete pyrolysis reactor with a lined furnace, flue gas catalytic afterburner, a gas drying column and pyrolysis gas filters.
Just for reminder, the modernization of TDP-2-3000 reactor resulted in increased efficiency of heat exchange surface use, which in turn reduced fuel consumption and increased equipment performance. Load tests were conducted, which showed stable reactor operation under conditions corresponding to the design project.