Oil sludge processing unit TDP-2 was presented to specialists of TATNEFT
---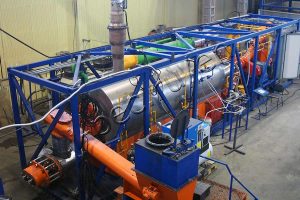 A practical conference dedicated to the technological challenges of the oil company was held on October 20-21 in Almetyevsk within the framework of the 19th international exhibition for professional communication with the specialists of PJSC TATNEFT.
In the course of technical session "Environmental Protection and Ecology" the delegate of Safe Technologies IG presented the continuous pyrolysis unit TDP-2 for processing of drilling waste and oil sludge, where he emphasized not only safety of the thermal destruction technological process for the environment, but also the possibility to process the generated waste directly from under the rig auger in real time, which will allow to give up using sludge pits. In the light of the high importance of the environmental agenda the report aroused great interest among the specialists of Tatneft.
The TDP-2 unit is successfully operated at major facilities of Rosneft, Gazprom Neft, Lukoil, etc.