Effective solution on processing of large tires Belaz for mining and processing enterprise JSC Apatit
---
Pyrolysis plant TDP-1, manufactured by special order of JSC Apatit, was shipped from IPEC production site to Kirovsk. JSC Apatit is one of the world's largest enterprise on mining and processing of apatite-nepheline ore of Khibiny. The inevitable result of its activity is accumulation of large volumes of heavy equipment and construction equipment tires (CAT type) on the territory of enterprise and at the production fields.
The processing of large tires at TDP-1 is a pilot project in solving the problem with already accumulated and newly generated waste. Pyrolysis plant is capable of processing 500 kg of rubber waste per 1 cycle and obtaining market valuable products – fuel oil, pyrolysis gas and dry subsoil.
In case of successful actualization, the technology of tires processing at TDP pyrolysis plant will be applied extensively. Sergey Donskoy, the Minister of Natural Resources and Ecology, highly praised the project on the implementation of environmental activities and projects in Murmansk region at January meeting.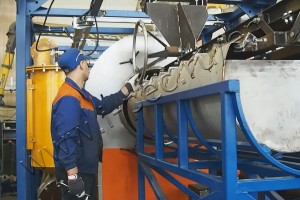 The main Customer's demand was ease of plant's operation. IPEC group of experts equipped TDP-1 with the new loading device based on motorized drive that leads to the need of only one operator for maintaining of pyrolysis plant operation. Feedstock was formerly loaded into pyrolysis reactor in a manual way; 2-3 people were required as operating personnel.
Another innovative solution is afterburner equipment. This solution was specified by the waste composition: due to high-calorific value, an excessive amount of synthetic gas is generated during the pyrolysis process. The excess of gas is directed into pyrolysis gas utilization unit for the environmentally friendly treatment.
TDP-1 is a part of the unique industrial Complex of waste treatment. The second processing line is KTO-100 incinerator. Incinerator is designed for used railway sleepers' utilization. Pyrolysis oil, derived from the treatment process at the plant, fully ensures incinerator's operation needs.