Pyrolysis plant TDP-2-200 at the oil and gas exhibition MIOGE-2015
---
On 23-26 of June 2015 13th biennial Moscow International Oil & Gas (MIOGE) Exhibition was held in Moscow Expocentre. IPEC, being a part of Safe Technologies Industrial Group, presented small-sized pyrolysis plant TDP-2-200 designed for the continuous processing of the hydrocarbon-containing waste into suitable for use products.
Top managers and technicians of national companies (LLC TyumenNIIgiprogas, LLC RN-Uvatneftegaz, OJSC NGK Slavneft, NEFTEMASH 
Krasnodar Factory OJSC, Irkutsk Oil Company LLC, JSC TATNEFT) and representatives of foreign firms visited the stand of the company and got to know more about completed projects.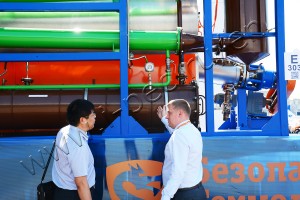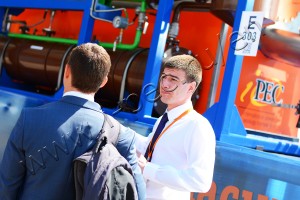 The specialists of Safe Technologies Industrial Group attended the 12th Russian Petroleum and Gas Congress / RPGC 2015, held within the exhibition, and took part in discussions. The problems and issues of the oil and gas industry in terms of the external economic sanctions were aroused great interest among the visitors. ST Industrial Group take a part in the program of import substitution, offering solutions for the waste treatment and producing a wide range of equipment for the oil and gas sector (methanol production facilities, compressors, etc.).