Pyrolysis reactor TDP-2-2000 shipment for Slavneft-Krasnoyarskneftegaz
---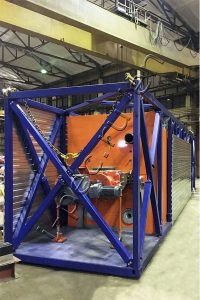 Final delivery of the year 2019: at the end of December, IPEC shipped a new reactor for TDP-2-2000 continuous pyrolysis unit arrangement, which is operating on drilling waste at the Kuyumbinskoye field of Slavneft-Krasnoyarskneftegaz.
Equipping the Complex with an additional pyrolysis unit allows productivity increase at least twofold. Besides, the tandem principle of execution is an effective solution for utilization of watered sludge: in one reactor the feedstock is pre-dried, in the second reactor – directly thermal decomposition of concentrated residue is completed.
From the middle of January to the beginning of February installation, commissioning and testing of TDP-2-2000 Complex, tandem version will be carried out. The plant is operated by the service company BT-Promotkhody LLC.