The first TDP pyrolysis plant is shipped for JSC Rosneft
---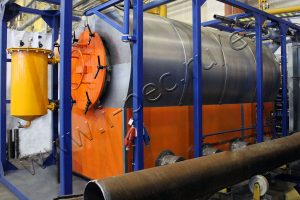 IPEC Company shipped Thermal Decomposition Plant TDP-1-1000 on the territory of the Uvat group of fields for LLC RN-Uvatneftegaz (Tyumen Region). Within the contract frames with JSC Rosneft, it is the first procurement of such a production unit in 2017, the year of ecology.
TDP-1-1000 pyrolysis plant is designed for the processing of waste oil, oil sludge, oil-contaminated soils, geotextile and industrial rubber products. One processing cycle is up to 1000 kg/h.
Thermal Decomposition Plant meets the environmental protection requirements of JSC Rosneft as well as the requirements of Russian and international environmental legislation.
According to Rosneft official website, the total geological reserves of the Uvat group of fields amount to 1,2 bln. tons of oil. Commissioning of the pyrolysis plant TDP-1-1000 enables to manage the waste under environmentally appropriate and cost-efficient conditions in a long-term prospect.