The TDP-2-200M pyrolysis plant with improved gas treatment system is shipped to Switzerland
---
The upgraded TDP-2-200M continuous pyrolysis plant was shipped to Switzerland to Wiederkehr Recycling AG. The equipment is designed for recycling crushed automotive shredder residue (ASR) to produce synthetic fuel, pyrolysis gas and dry residue.
TDP-2-200М is equipped with the improved system of gas purification: the additional pyrolysis gas treatment unit includes the wet scrubber and the coal filter. Such a solution allowed satisfying the special requirements of the Customer and the legislation of Switzerland, which stipulates strict standards for emission of pollutants into the atmosphere.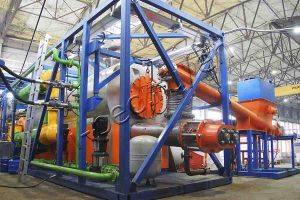 A certificate of compliance with the requirements of the European Directive 2006/42/EC ('On Safety of Machines and Equipment') was obtained for the TDP-2-200M plant. The international certification body TÜV NORD upon the test results issued the certificate.
This is the second project implemented by IPEC for European customers. Recall that at present, the supply of equipment for the TDP-2-2000 unit is continuing for the Estonian company Viru Keemia Grupp.