The third batch of equipment for the pyrolysis plant TDP-2-2000 is shipped to Europe
---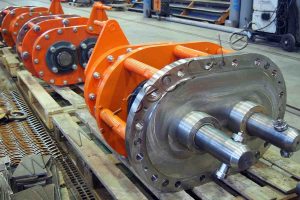 A third shipment of components of high-performance pyrolysis units TDP-2-2000 was sent to Estonia from the IPEC production site. Recall, thermal decomposition units are the part of the complex for the processing of slate tar of Viru Keemia Grupp.
There is a storage tank and scraper conveyors for dry residue, a hooper-prepressor for raw materials – components for the loading and unloading unit; gas-distributing unit and a set of instrumentation as part of the automated control system for unloading the dry residue, as well as the operator area is directed to the Customer. All units of equipment are delivered in the maximum operational readiness. Installation work will be performed by IPEC specialists at the Customer's site upon completion of the delivery of the complete set of equipment.
The entire range of TDP plants received TÜV Nord international certification, which makes easily supply possible to the EU market.