Tire pyrolysis plant TDP-2-800 is commissioned!
---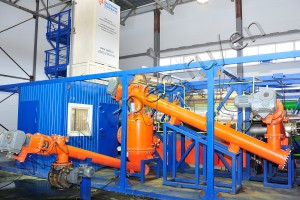 In early December, IPEC specialists launched Continuous Thermal Decomposition Plant TDP-2-800. Commissioning works were held in a standard mode, pre-commissioning and acceptance tests were carried out in the last 7 days. Gagarin Tire Plant Edesko became a customer. The facility is manufactured for the processing of used tires and waste rubber that is valuable high-calorific organic materials.
Edesko facility includes two production lines:
1. Pretreatment mechanical line: tire shredding, steel cord and fabric removal, two-stage magnetic separation, rubber granulation to a size of less than 10×10 mm.
2. Continuous Thermal Decomposition Plant TDP-2-800, with total input capacity of 20 tons per day, designed for the conversion of waste into commercial-grade products.
After careful pre-treatment, the raw material is loaded into the 8-meter receiving hopper. Then it comes to the pyrolysis chamber of TDP-2-800, where is processed into liquid fuel oil, carbon black, and pyrolysis gas.
When the process is stabilized TDP-2-800 is switched to pyrolysis gas (which is the product of processing), the excess gas is sent for the energy recovery, followed by hot water production for the needs of the enterprise: the heating of premises.
Because of the high caloric content of the feedstock, a significant amount of fuel oil is produced. The oil can be used for the needs of the enterprise or sold.
One of the commercial-grade products, carbon black is obtained during waste treatment process.  Physical and chemical properties of carbon black meet the GOST standards. The product is used in the production of construction mixtures, industrial rubber goods and for the subsequent activation to produce absorbents.
TDP-2-800 is environmentally friendly equipment, as evidenced by the State Ecological Expertise. Due to the integrity of the plant, the emissions are negligible.
The disposition of the tires remains an important issue worldwide. In order to reduce the amount of material flowing to landfills or illegal dumping TDP-2-800 is exploring a new vision for the future where the residual materials are converted into higher-value products, alternative fuel and other industrial products.