TDP-1 pyrolysis unit will process waste from the Urnenskoye field of PJSC Rosneft
---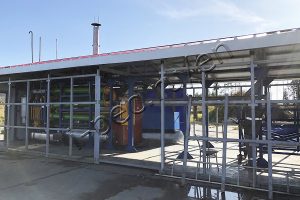 The pyrolysis plant TDP-1-1000 with the capacity of up to 1000 kg per cycle was installed and put into operation at the facility of Rosneft – a landfill for domestic and industrial solid waste of the Urnenskoye oil field of the Uvat fields group.
By the end of September, IPEC specialists had completed commissioning of equipment and successful industrial tests on waste – oil sludge, oil contaminated soils, waste rubber products, used lubricants, etc., which will later become the main raw material for processing. Under the contract, IPEC specialists also trained technical stuff so that it could operate the plant independently.
Thermal Decomposition plant of TDP series is widely used for oilfield waste treatment by both oil producing giants and service companies.