Pyrolysis from A to Z (part1)
---
Pyrolysis: basics
Pyrolysis is based on thermal breakdown of hydrocarbon waste to produce fuel products or either chemical feedstock. Pyrolysis process is a new generation of conversion technologies presented and researched in the world waste management market.
For the first time, the practice of pyrolysis was introduced in the end of XIX century for derivation of lighting gas from kerosene fraction.  Already in 1877 the patent was registered for the pyrolysis technology. Its author, Russian chemical engineer Alexander Letniy, studied high temperature processing of oil products.
Today the pyrolysis systems are widely used as waste treatment technology and focused on the production of gas from solid organic waste, oil sludge and drilling sludge. The process is characterized by high temperature rates and oxygen starved environment.
The process is being studied, modified and developed to allow more materials to be recovered and new value created from those materials Mostly modifications are related to the increasing of productive and cost efficiency of pyrolytic plants, reducing the volume of hazardous residue. It is carried out by design modification, introducing of various chemicals or additional equipment.
The process description
Notwithstanding of the type of the process it features high temperatures: 450-1050 °C. High temperatures are reached by various methods depending on the plant design.
The process is classified by temperatures:
low temperature pyrolysis — 450-550 °C
mid temperature pyrolysis — 550-800 °C
high temperature pyrolysis —900-1050 °C
There are no specific requirements for pressure in the process. It can be atmospheric or near atmospheric.
Pyrolysis technology can be classified into dry and oxidizing, depending on reaction type; into oil, wood, tire, or plastic waste conversion technologies, depending on feedstock composition; and batch or continuous flow systems, depending on feedstock input method.
Pyrolysis from the point of chemistry
Pyrolysis as a process combines different reactions of decomposition of organic materials and compounds to the products with lower molecular weight. Reactions go both consequently and simultaneously, they are interconnected. The primary and the secondary stages of the process are distinguished:
The primary stage is a breaking of the carbon based matter under high temperature into constituent chemical elements
The secondary is dehydration for the possibility of the further cracking. Separation of the products is carried out by condensation or polymerization.
Feedstock (inputs) for pyrolysis technology
Before defining the source it is important to establish the intended use of the plant. If the plant is dedicated to utilization, the feedstock will be waste products subject to treatment.
Thermal Decomposition Plants can treat the following items: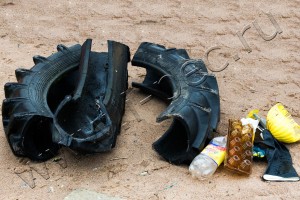 Scrap plastics and films
Used tires
Auto shredder residue
Mixed resin products
Oil sludge
Drilling waste
Used lubricants
Oil-contaminated soil.
If the pyrolysis plant is aimed at production of syngas, rich in unsaturated hydrocarbons, then wood, oil products or coal can be used as a feedstock.
Pyrolysis A-Z (part 2): pyrolysis units and thermal decomposition plants
---
When using the material or any part of it the link to the website (www.i-pec.ru) is required